Graduation: Class of 2018
Graduation is an important milestone and motivator for students. It is a time to celebrate accomplishments as they prepare for new challenges and opportunities.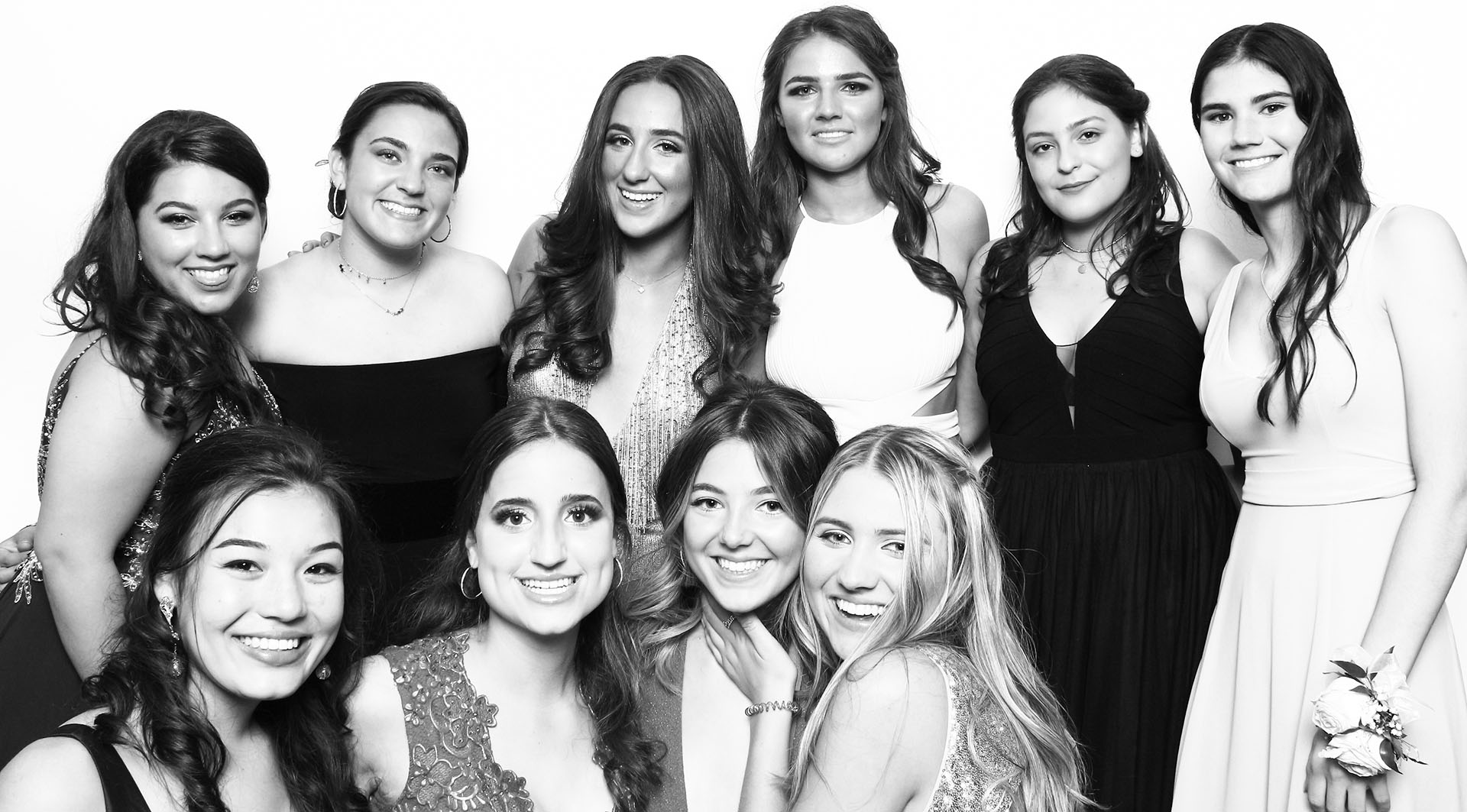 The senior prom took place on June 7 at Le Treport in Mississauga where students and their guests danced the night away. The night got off to a great start at a pre-prom celebration hosted by the DiBattista family. Limo busses transported students and guests to the venue where a black and white photo booth captured this great night. The Gritti family then hosted a post-prom party.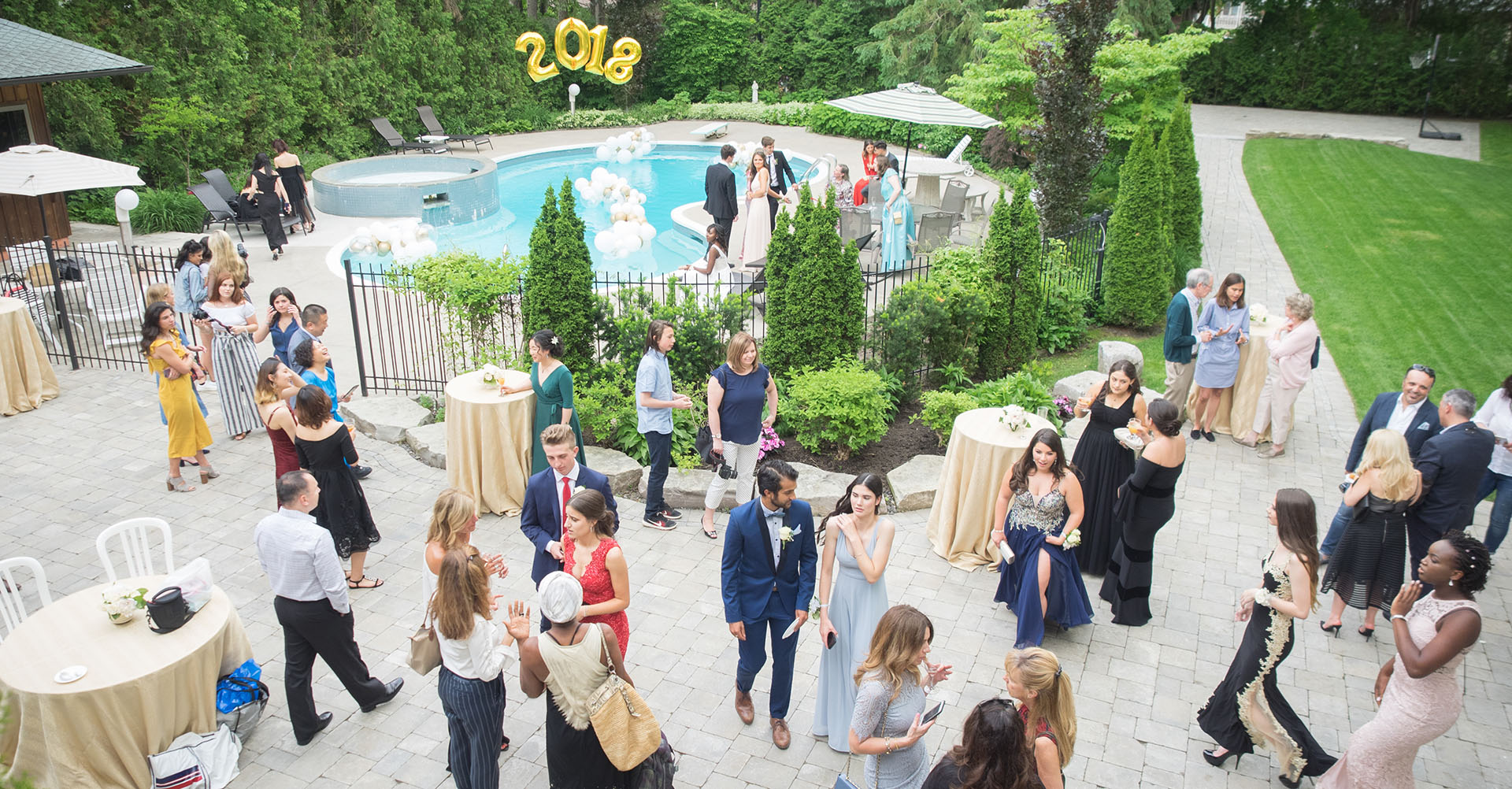 Special thanks to the Class of 2018 Prom Committee for their months of hard work and dedication. From picking the colour scheme, to decorations and centerpieces, their attention to detail ensured that everyone in attendance was able to enjoy a wonderful night and celebrate!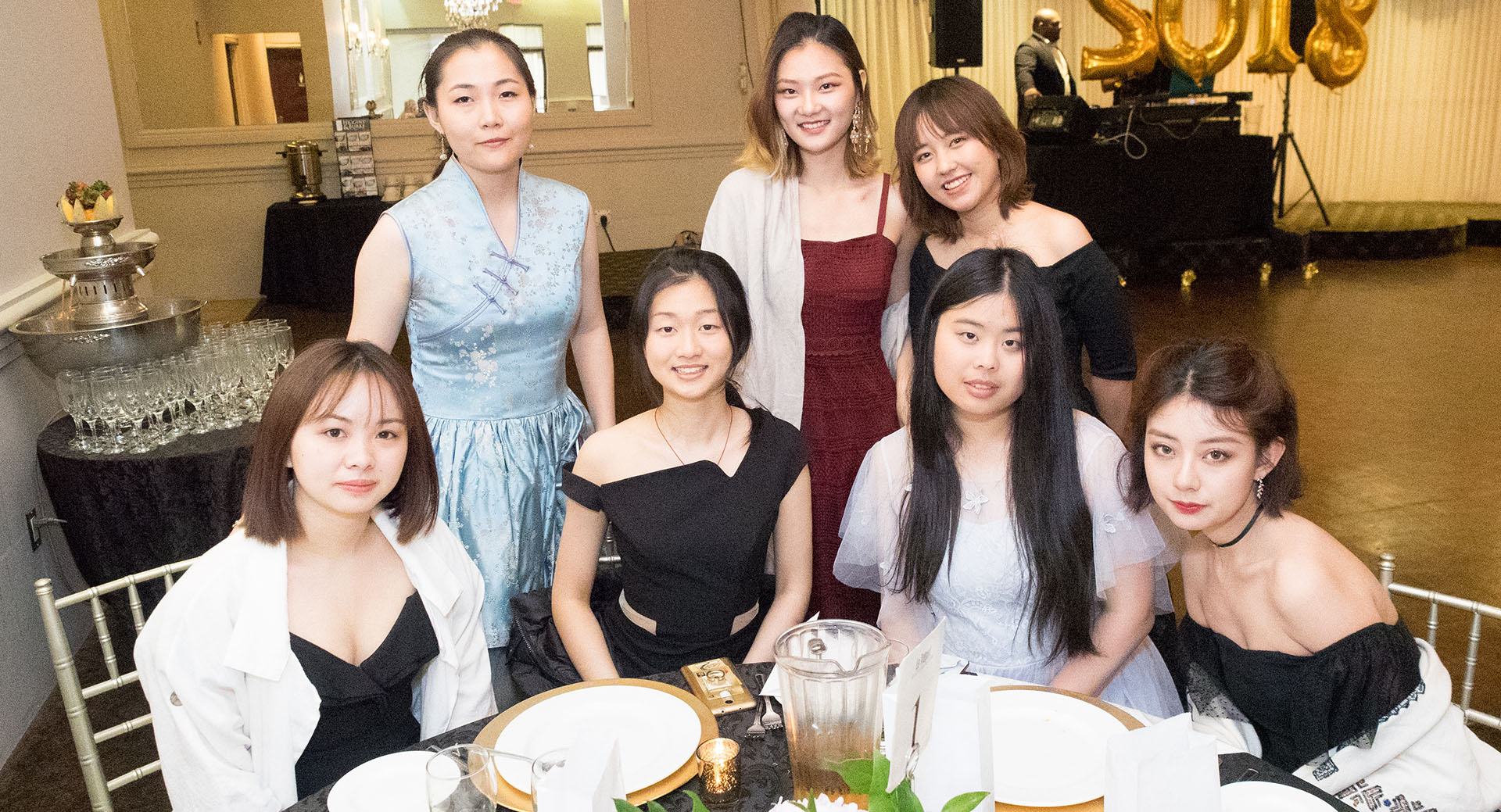 Mass & Graduation Ceremony

The Class of 2018 at HNMCS is truly outstanding. All of the Class of 2018 gained acceptance into universities across Canada, the United States, and the United Kingdom. More than three-quarters of graduates (78%) are pursuing STEM programmes. They received over $1.5 million in scholarship offers, the highest amount by any HNMCS graduating class.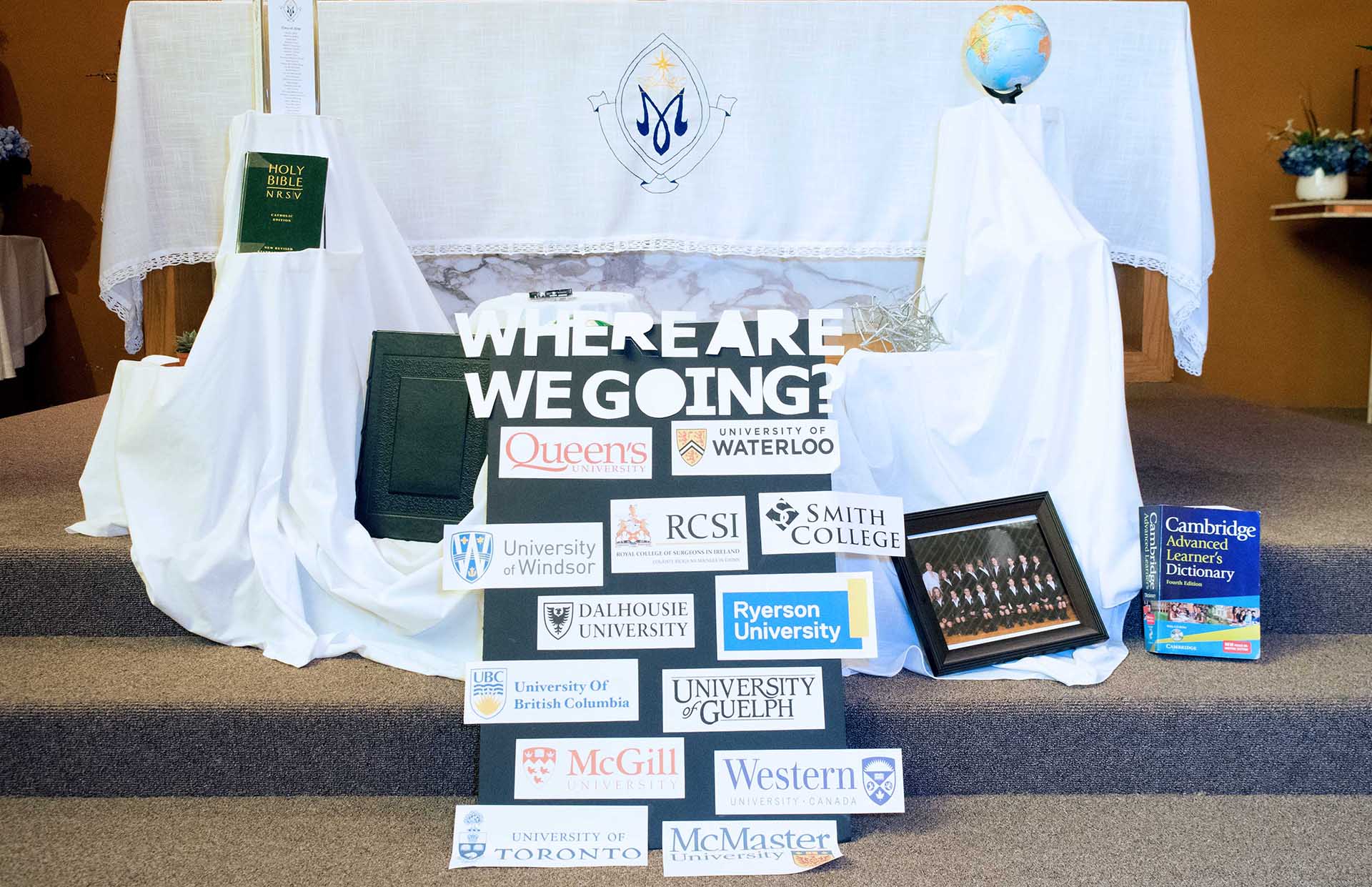 On Friday, June 22, graduates, their families and friends gathered at the school for Mass, celebrated by Father John Malo, CSB. The Mass was a fitting way to start the day, thanking God for the blessings each student has received and for the many ways in which they have blessed the HNMCS community.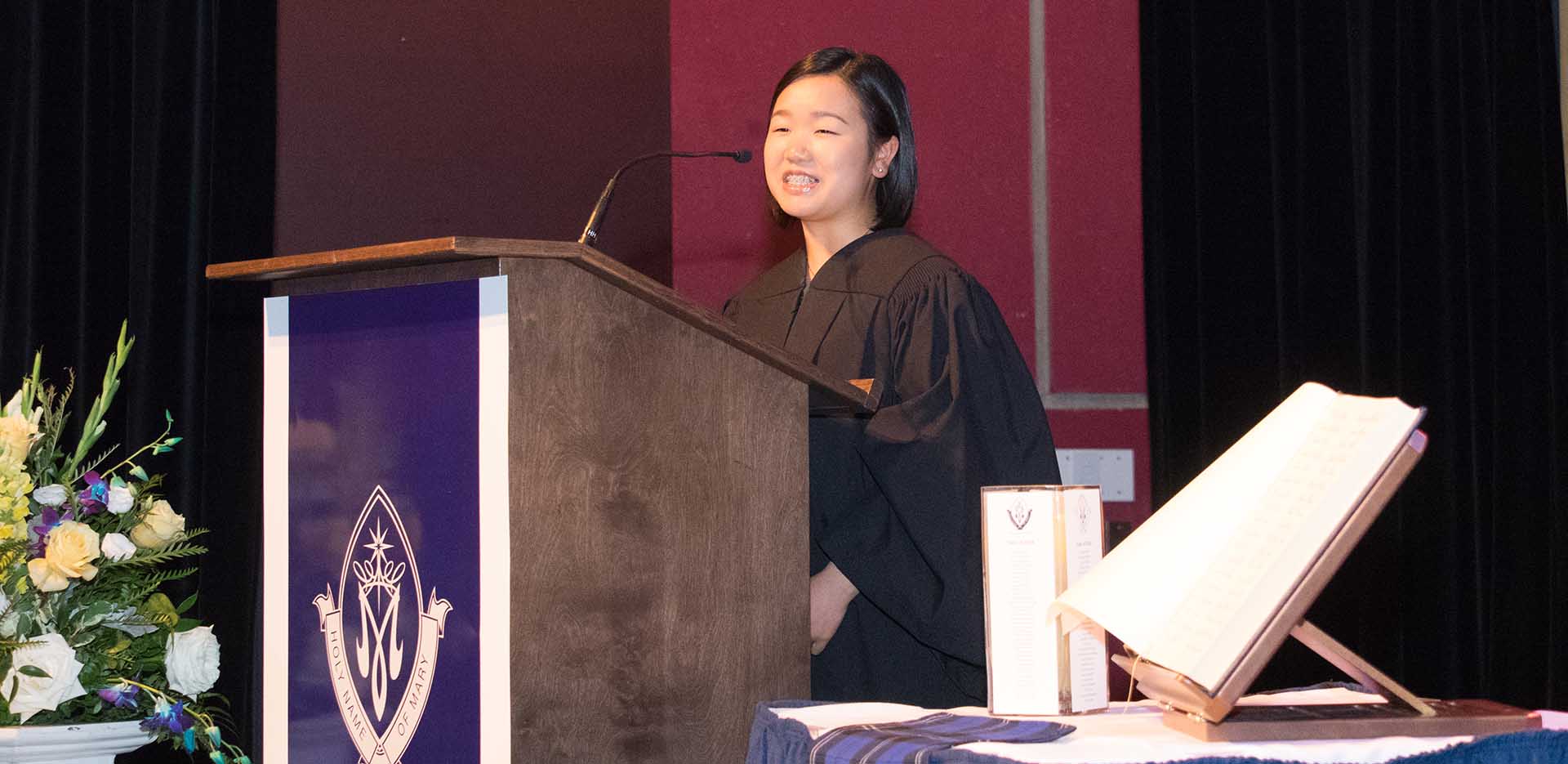 Later that same afternoon, Salutatorian Christal Cheng '18 welcomed everyone to the ceremony at the Living Arts Centre, followed by remarks from Dr. Bonnie Schmidt, the founder and president of Let's Talk Science, an award-winning, national charitable organization that she started in 1991 while completing a Ph.D. in Physiology.
During the conferral of diplomas, 91% of the students received the Marian Award, recognizing their consistent honour roll standing throughout their Senior School years at HNMCS. Special awards were then presented:
Sister Celestine Giertych Social Justice Award: Emma Marques
Basilian Fathers Catholic Student Award: Claire Trotter
Graduate Student Award of Merit: Gabrielle Fava
Academic Excellence Award: Victoria Meola
The Governor General of Canada Medal: Victoria Meola
Lieutenant Governor's Community Volunteer Award for Students: Monica Opoka
Schulich Leader Nominee: Victoria Meola
The University of Toronto Book Award: Gwyneth West
HNMCS Spirit Award: Julia Di Luca
The Inspiring Leadership Award: Olivia Morrone
Innovation & Entrepreneurship Award: Chiara Choi
Visual Arts Award: Natalie Chiovitti
HNMCS Stars Award: Natalie Moseley
Salutatorian: Christal Cheng
Valedictorian: Gabrielle Michael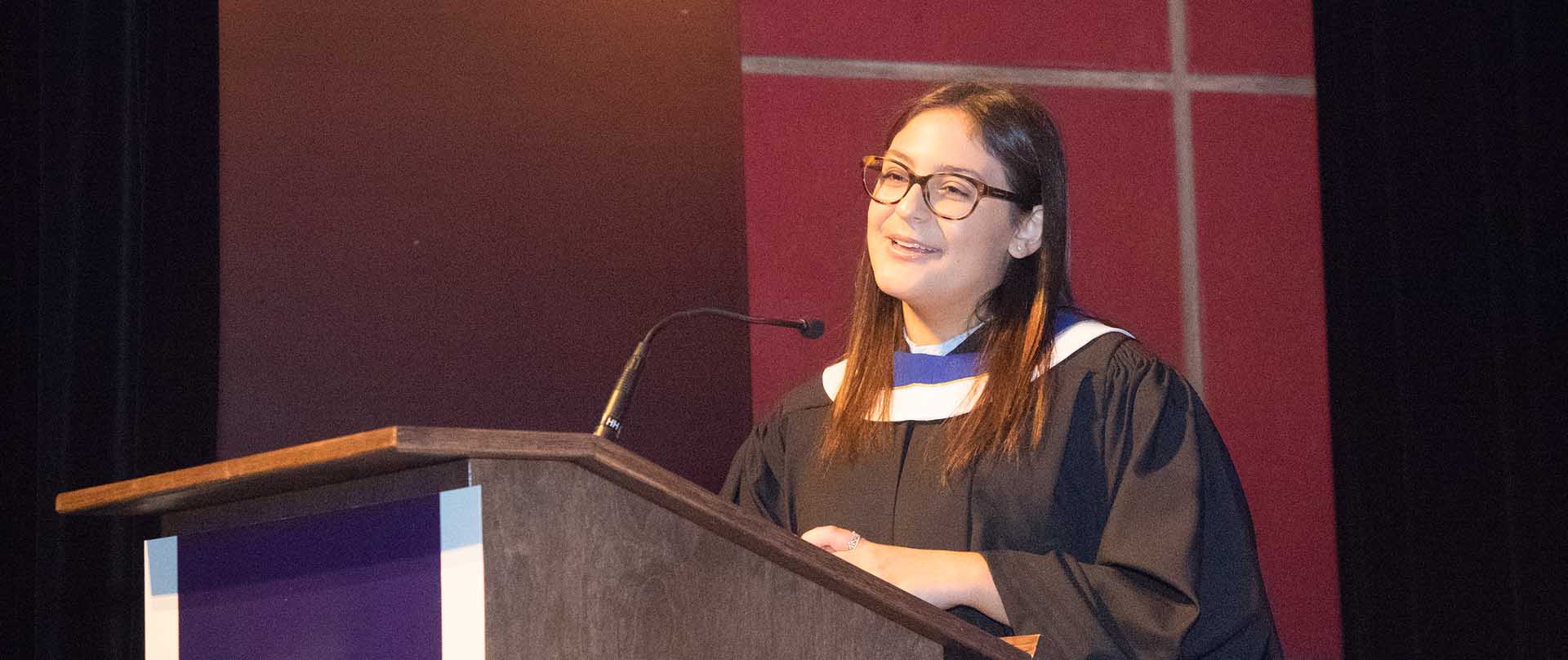 To conclude the ceremonies, Valedictorian Gabrielle Michael '18 movingly spoke on behalf of her class, emphasizing their gratitude for their time at HNMCS and the many opportunities they have received.
Everyone in the HNMCS community extends sincere congratulations to the Class of 2018 on their graduation, and wishes them every success for the future.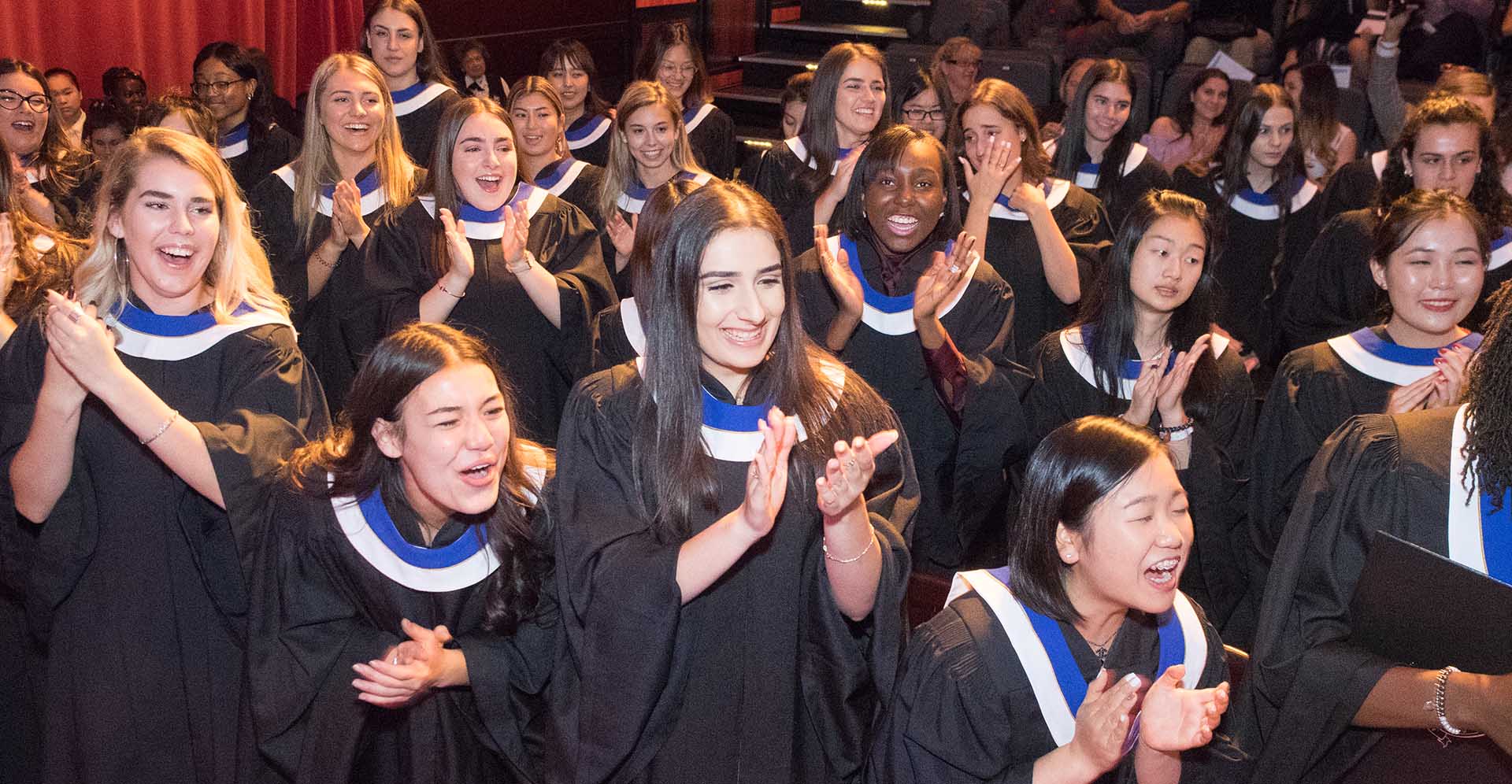 Middle School Celebration

On June 15, Grade 8 students and their families gathered to celebrate the many highlights of their Middle School years. The celebration included a Mass presided over by celebrant Father Roger Pascall, who shared his message: Say "Yes" to what God calls us to do. Each girl was called to reflect on their experiences throughout the year and be open to what God has planned for us.

Following the Mass, Salutatorian Sonnet Hines '22 welcomed everyone with a thoughtful address and a special awards presentation took place, where students were honoured for their achievements. Each student received a Middle School certificate and the following awards were presented:
Award for Academic Excellence:

Beatrice Carcao '22

Felician Sisters' Community Service Award:

Maya Grzyb '22

Spirit Award:

Carina Choi '22

Arts Award:

Anjali Sharma '22

Athletic Award:

Christina Caklos '22


Angeline Medeiros '22, the recipient of the Valedictorian Award, ended the celebration with her valedictory address. She thanked each of the girls for their many contributions and offered thoughtful well wishes as they head off to Senior School. The girls then headed to a dinner and dance at the Mississaugua Golf and Country Club, where students enjoyed food stations, a photobooth and DJ'ed dance.