I am excited to welcome you to Holy Name of Mary College School, where every day we work towards a new level of excellence by creating an environment that empowers students to become inspiring leaders. HNMCS celebrates the uniqueness of each individual while building confidence, fostering creative thinking and creating the foundation for spiritual growth. Our school culture is grounded in a stimulating sacramental life that provides a framework for developing a worldview shaped by compassion and that points to a positive way forward in a world of constant change.
We encourage girls to think beyond themselves to help others. Our founding Basilian and Felician religious orders support our commitment to faith development and assist us in sustaining a Catholic identity.
HNMCS' curriculum is tailored for girls, who are given every opportunity to develop and stand out. We offer an enriched learning landscape that fosters exploration and intellectual risk-taking. We empower girls to become leaders and role models who go on to excel in university and in their careers.
We empower girls to become leaders and role models who go on to excel in university and in their careers.Marilena Tesoro, Head of School
As a staff, we are passionate about learning and we share and inspire that passion in our students. Our top priority is our students, who we support and encourage to challenge themselves, seize opportunities and reach their fullest potential. We understand and believe in the strength of our community and we value the relationships we develop with our students and our families. We promise a culture of learning that makes volunteerism a trademark of the HNMCS school experience. Together with an unprecedented parent involvement and a committed Board of Directors, we continue a tradition of giving that models stewardship and encourages social responsibility. It is through a shared commitment between students, teachers and parents that our school has become a special place to be, learn and thrive.
I invite you to take a closer look at the distinctiveness of our learning community where girls take centre stage and are inspired to reach for the stars.
Marilena Tesoro
Head of School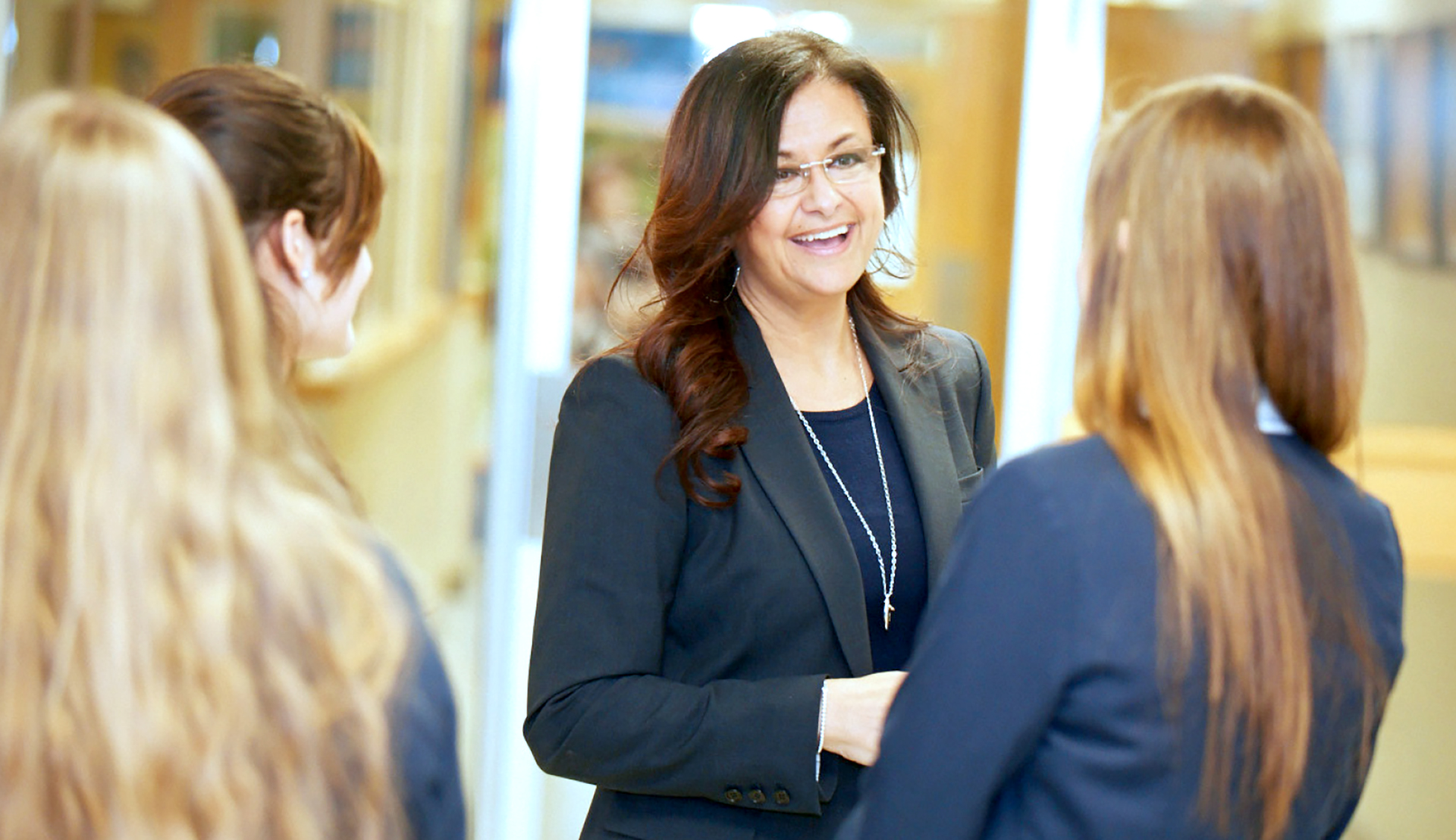 Catholic | Independent | Mission

Holy Name of Mary College School (HNMCS) is an independent, Catholic school for girls in grades 5 through 12. We are guided by our mission to educate young women to their full potential in a dynamic learning environment that builds confidence and encourages leadership.

Felician | Basilian

Founded by the Felician Sisters in 1964, Holy Name of Mary quickly established a reputation for academic excellence and commitment to social action and service. In September 2008, Holy Name of Mary reopened as Holy Name of Mary College School supported by St. Michael's College School of Toronto.

ACADEMIC | TRADITION | 21st Century Skills

We continue to focus on academic excellence and building on the traditions established by the Felician Sisters while also preparing girls to lead in the 21st century.

Co-Curriculars | University Prep

We are a vibrant learning community that provides girls with rich learning opportunities and varied co-curricular activities designed to empower them to reach higher. We have an exemplary university preparation curriculum that fosters excellence.
Culture of Achievement

HNMCS has a culture of achievement that develops the individual capacity of every girl.

Customized Learning

Our curriculum is tailored for girls to develop and excel in the way they learn best.

All-Girl Leadership

Research shows that graduates from all-girls schools achieve greater academic success, have more self-confidence and develop stronger leadership skills. This is a direct result of a robust learning environment where girls take on every role and are supported in finding and sharing their unique voice.

Social Balance

Our affiliation with St. Michael's College School balances the benefits of single gender education with co-ed activities such as theatre arts, symposiums, co-curricular activities, social justice initiatives, field trips and social events.
Respect
Reverence and respect for and commitment to promoting and protecting the dignity of persons.
---
Excellence
Encouraging an open mind and heart to lead to the continuous improvement of the person and ministry.
Justice
Forging right relationships, recreating a sustainable environment and promoting the common good, all in the pursuit of peace.
---
Compassion
Exhibiting emphatic consciousness toward others expressed in caring service.
The HNMCS Board of Directors oversees the strategic, financial and operational sustainability of HNMCS as executed by the Head of School. The sponsoring orders of the Basilian Fathers and the Felician Sisters approve all directors who join the Board, ensuring that each director reflects the school's Core Values and provides skills to assist in the governance of the school.
Board members are dedicated to the success of the school and play a strategic role in its continued evolution.
Philip L. Azar graduated from the University of Notre Dame with a B.A. in June, 1967. He then graduated with a J.D. degree from Tulane University in 1971, followed by an LLM in Taxation from Washington University, St. Louis. Azar served as Law Clerk to the Honorable Harlington Wood, Jr. Federal District Judge for the Central Illinois District Court, Springfield IL, for two years between his graduation from Tulane and entrance into the Washington University School of Law. Azar had represented the Felician Sisters, Chicago Province as outside legal counsel from 1978 until 2001. Azar has been a founding partner of a law firm he founded, a small business owner with over 300 employees, and a real estate developer, prior to joining Felician Services.
Enzo Carcasole serves as the Basilian Fathers' designate on the HNMCS Board. He has had a career of teaching English in the Catholic school setting, having taught for the Toronto Catholic District School Board and at St. Michael's College School. From 2011-2013, Enzo served as a teacher/administrator at HNMCS. He has strengths in curriculum, academic excellence, and he views the school's mission through the lens of the Basilian values for education.
Ezio Crescenzi, Board Secretary is the Managing Director of the Crescenzi Consulting Group, an educational consulting company that helps transform good schools into great schools. Previously, Ezio was the Head of School at The York School in Toronto. The York School was the first International Baccalaureate world school in Canada accredited to offer the IB curriculum from kindergarten through to university entrance. While at The York School, Ezio was able to create a new Junior School in the Heart of Toronto by building a new Lower School and significantly renovating the Upper School. Before that, he was the founding principal of three new public Catholic secondary schools in the Dufferin-Peel Catholic District School Board. His last high school (Gonzaga) in Dufferin-Peel was a unique partnership with the City of Mississauga. This school has some of the best facilities of any school in Ontario. As well, Gonzaga was usually in the top ten schools in the province on Provincial math and literacy tests. Ezio retired from the Dufferin- Peel Board in 2006, shortly after he was awarded the Catholic Principal of the Year award by the Catholic Principals Council of Ontario. Ezio has been very active in the community. He served for many years on the Board of Directors of Peel Family Services, a not for profit agency of the United Way. He brings excellent skills in a variety of areas key to a successful not for profit school, including strategic planning, marketing, management, staffing, financial management and advancement.
Colleen Fulkerson, Board Chair serves as the Felician Sisters' designate on the HNMCS board. In her professional responsibility to the Felician Sisters of North America, she serves as a liaison between the Felician Sisters and several of their ministries in North America. She provides expertise in the areas of educational administration, strategy, and supervision. Colleen guides and supports ministry leaders on all areas as related to governance and operations. Colleen has experience as a teacher, department chair, Curriculum and Assessment Director, professional development leader, and has experience both opening and closing schools as well as turning around underperforming K-12 schools in some of the most socioeconomically disadvantaged areas in Chicago. Colleen taught for eleven years at a Felician-sponsored high school in Chicago, Illinois, USA.
Diane Richards, Board Vice Chair is an Independent Education Professional and former Secondary School Principal. Most recently, she was the Principal of the Independent Learning Center, the Ministry of Education's long distance education provider. She's served as a Coach, working with secondary school principals and administrators as part of the Principals Council of Ontario. Diane retired from the Dufferin-Peel Catholic District School board where she was Principal of Adult and Continuing Education. She served as the first lay principal of Holy Name of Mary and brings a strong familiarity with the Felician Sisters and their mission as well as a robust background in school administration, academic excellence, and professional development.
Sr. Jean Romanowicz, C.S.S.F. entered the Congregation of the Sisters of St. Felix of Cantalice (C.S.S.F.) as a young woman. She continued her education at the Ontario College of Teachers and earned her Teaching Certificate in primary Education. A life-long learner, Sr. Jean continued teaching and taking more courses related to education in order to continuously improve her work as an educator. She taught Grade 1 to Grade 8 in locations including Mississauga and Niagara Falls. Later, her Community congregation called upon her work in the Provincial Administration as the Provincial Minister for all the Felician Sisters in the Greater Toronto Area. As Provincial Minister, Sr. Jean worked with her administrative team of Sisters to ensure duty to all areas of Canon law, including mission, governance, operations, and financial responsibility for the Felician Sisters' ministries in Canada.
Terence M. Sheridan is a passionate educator who has over 20 years of experience in public and independent Catholic educational settings, and in both single-gendered and co-educational institutions. He is presently Headmaster at Northmount School for Boys, Ontario's only all boys' independent Catholic elementary school. Prior to this, he served as teacher, vice-principal, principal, and president at St. Michael's College School. A life-long learner, Terry received his Master of Arts in Teaching in 2003 and his Ph.D. in Educational Administration in 2013. Working from a shared leadership perspective, Terry has extensive experience in the classroom setting, curriculum development, teacher development and school leadership
The HNMCS administration executes the strategic plan outlined by the Board of Directors. They are innovative, ethical and empathetic leaders who are dedicated to their commitment to meet and surpass all school-wide objectives in concert with parents, guardians and of course the students of HNMCS.
The mission of the HNMCS Administration Team is to help every HNMCS student develop intellectually, emotionally, physically and spiritually.
Ms. Marilena Tesoro Head of School
Ms. Kathryn Anderson Director of Schools
Mr. Andrew MacLeod Director of Technology
HNMCS staff support our students in all aspects of their academic journey. Each day they work to facilitate the daily operations of the school and manage a variety of processes key to ensuring every HNMCS student has a successful path to success.
Our staff are inspirational. They provide ongoing help and encouragement in all aspects affecting school life and office management.
Ms. Maya Corbic Finance
Ms. Giselle Fernandes Admissions
Ms. Fiona MacLeod Student Information Manager
Ms. Elizabeth McCurdy Reception
Ms. Cheryl Pereira Accounting
Ms. Susan Bates University Placement Counsellor
All our faculty are personally invested in the care and nurturing of every HNMCS student. They are committed to healthy and supportive educational processes to instill a love of lifelong learning in each HNMCS student. They are 100% certified professionals (PhD/M.Ed./OCT), friendly facilitators, mentoring moderators and caring coaches.
Every HNMCS faculty member completed a customized professional development programme to ensure students are always learning contemporary content via ideal and research-supported teaching methods
Ms. Jen Apuzzo Drama, Social Science
Dr. Laura Barbieri French
Ms. Samantha Caldeira-Slavec Chaplaincy, Art
Ms. Jaclyn Carere Physical Education
Ms. Laura Cerullo English
Ms. Alessandra Ciraco Religion & Science
Ms. Olivia DiGiammarino Grade 6
Ms. Sarah DiMauro
Music
Ms. Jessica Fellin Grade 8, Art
Ms. Elizabeth Guay Mathematics, Science, Geography
Ms. Bozena Kopf Mathematics, Learning Enrichment Centre
Dr. Karen Kozma Science
Ms. Rima Makari ESL
Mr. Clayton Martino English, Athletic Director (SS)
Ms. Jennifer Mather Grade 5
Ms. Anne Morrone Music & Choir Director
Ms. Euginia Nicoletti Science
Ms. Melissa Preston Social Science
Ms. Kristin Prillo Programme Co-Ordinator, Grade 7
Ms. Natalie Rebello Mathematics
Ms. Kaitlin Soscia Business Studies
Ms. Julia Taormina Religion, Learning Enrichment Centre
Mr. Kyle Watson French, Athletic Director (MS)