CIS Festivals: Music, Drama, Dance
On April 7, HNMCS' Junior, Intermediate and Senior School choirs shared the spectacular stage at Roy Thomson Hall with hundreds of students from other school choirs to participate in this year's Conference of Independent Schools Music Festival (CISMF) concert.
The CISMF Junior Choir transported us into spring with Loftis's beautiful work "The First Day of Spring", delighted audiences with "A Million Dreams" from the blockbuster movie The Greatest Showman, showed their bilingual abilities with "Canto De Pilon" and jazzed it all up with an Irving Berlin classic "Blue Skies".
The CISMF Intermediate Choir got everyone tapping their feet with "Can't Stop the Beat" from the musical Hairspray and performed a moving rendition of "Rise Up". They also reminded us of the power of "For Good" from the musical Wicked and closed their exciting set with the beautiful melodies of Pinkzebra's "The Defining Moment".
HNMCS was very proud to have our Senior School Choir participate in CISMF, our first year for this talented group. The 125 student auditioned choir, which included HNMCS students, was co-conducted by our very own Ms. Anne Morrone. This SATB (Soprano, Alto, Tenor and Bass ) Senior Choir immediately displayed their skill with Baroque composer Vivaldi's "Domine Fili Unigenite" from Gloria and performed Stanford's breathtaking "The Blue Bird" opus 119 No.3. Ms. Morrone took the stage lulling the audience to a faraway land with Narverud's stunning "Lunar Lullaby". This SATB Senior Choir literally shook the stage with their excitement and power roaring their opening lines from The Greatest Showman proving to be a showstopping choir.
Our HNMCS girls joined all the choirs to bring CISMF2019 to a spectacular close, with an uplifting performance of "When You Believe" from The Prince of Egypt. Conducted by the talented and passionate composer/arranger Colin Clark, the show ended without a dry eye in the house.
You can view 2 videos on the school YouTube Channel here and here.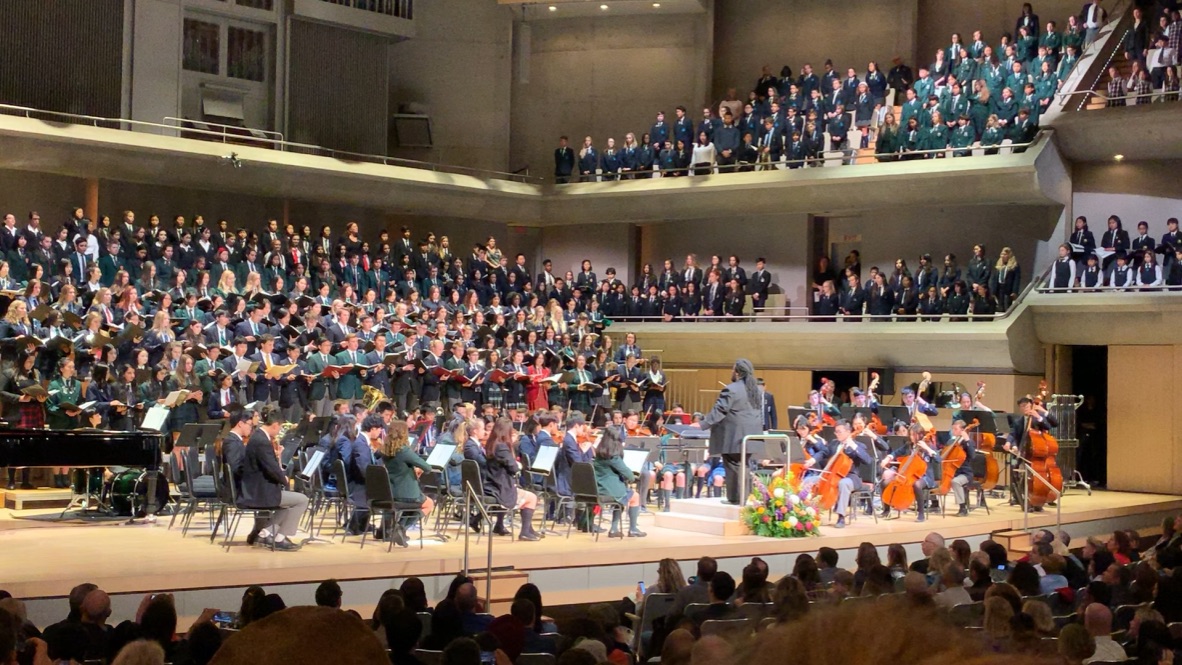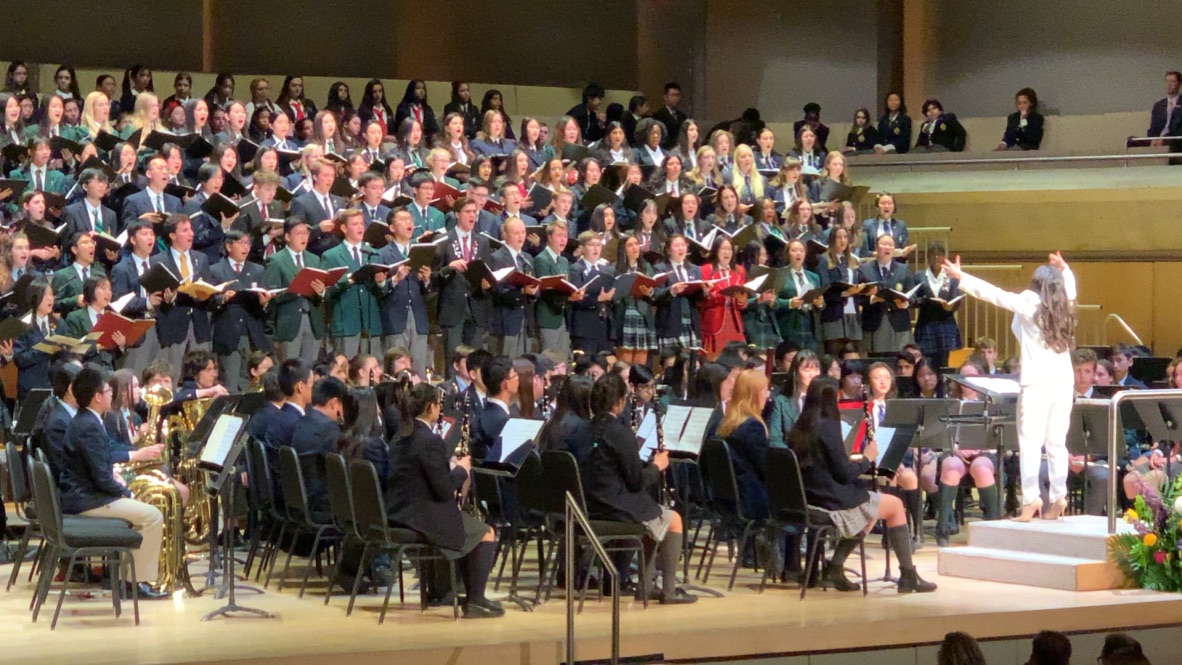 The 10th annual Conference of Independent Schools Ontario Dance Fest, held at York University's dance studios and the McLean Performance Studio, is an annual event designed for CIS Ontario member school students, in grades 9 to 12, keen to experience dance in a fun and non-competitive environment.
This was the first time HNMCS had the opportunity to attend the festival and it was a huge hit. Intermediate-Advanced Hip-Hop teacher Shavar "Caution" Blackwood and Afro-Fusion teacher Shakeil Rollock, along with new instructors led workshops in Contemporary, Samba, Powwow Indigenous Dance, Bollywood and Beginner Hip-Hop.
Schools were invited to bring a short performance or two to share with their peers and HNMCS students Caroline Clasper and Dream Tuitt-Barnes did a fantastic job performing their duet routine. Well done, girls!
On April 24 and 25, 2019, 12 of our Senior School students made their way to Stratford to attend the Conference of Independent Schools Drama Festival (CISDF). This festival was an exciting way for independent schools to share their creative stage work and to expose their young artists to workshops and social opportunities with other independent schools. The theme for this year's festival was Breaking Boundaries.
The opportunity for students to express themselves through theatre, be it on stage or off, can be a true journey in self- discovery, often giving students a chance to contemplate their capacity in a new way. A huge congratulations to the writer and director of 'School Musical: The School Play' Muleba Chailunga who worked tirelessly to create a fantastic play filled with dynamic characters and lots of laughs! To the cast, Caitlin Galletto, Natalie Pedlar, Rachel Sentore, Daniela Gomez, Mahalia Lotz, Nicole Le Donne, Carina Choi, Katherine Chouinard, Christina Caklos, Natalie Mishko, & Angeline Medeiros your commitment to your roles made the play come to life!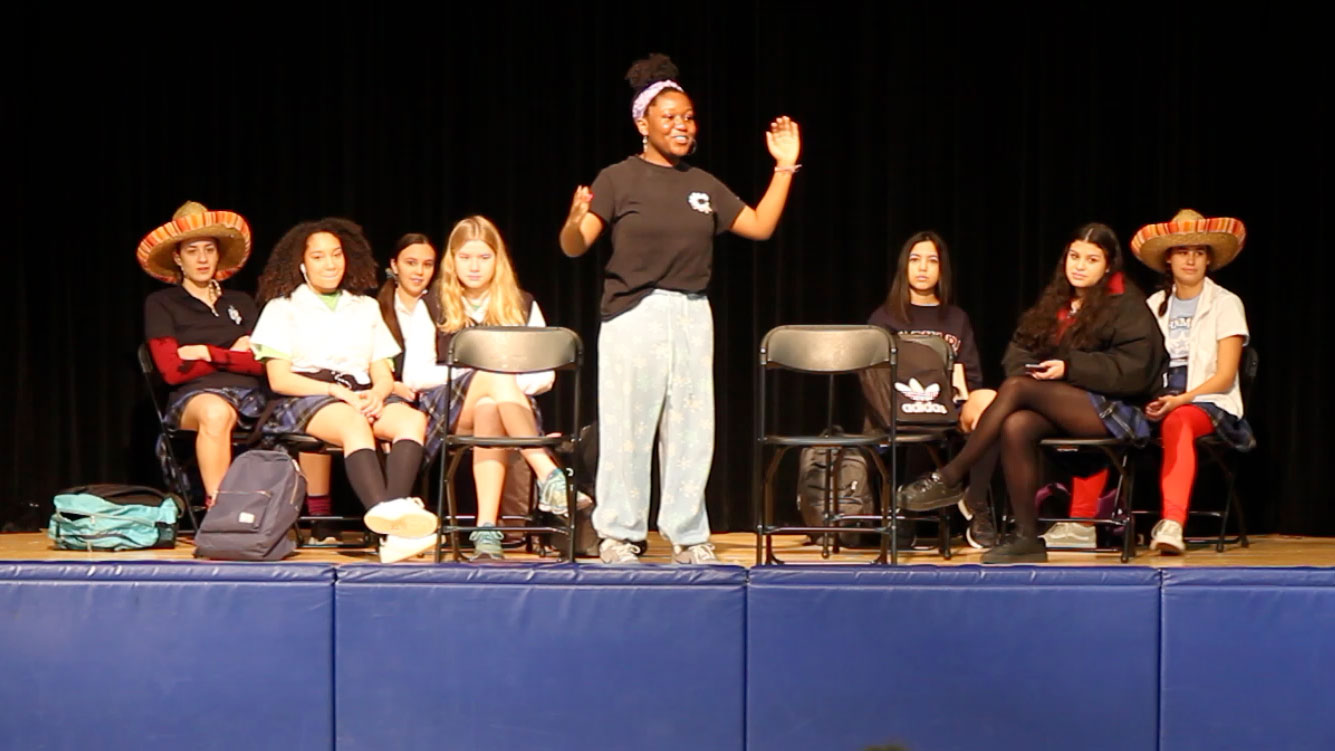 A five-day action-packed Band and Choir trip to Chicago saw your Senior School Choir students join the wonderful SMCS band. Traveling 70 people strong, this group dazzled their audiences. First stop Windsor! Before hitting the border, the Choir and Band immediately showcased their talents performing their own repertoires and joined forces to perform the famous "Into The West" from Lord of the Rings: Return of the King and closed each performance with Journey's powerful "Don't Stop Believin'".
Now for the sights! The sun was shining bright for a 75-minute Architectural Cruise along the Chicago River. The group quickly boarded their coach to the famed Wrigley Field to watch the Chicago Cubs play the LA Dodgers. After the game, the group enjoyed dinner at the Hard Rock Cafe and those who dared did the thrill ride "Tilt" off the 360 Chicago observation deck (John Hancock Building).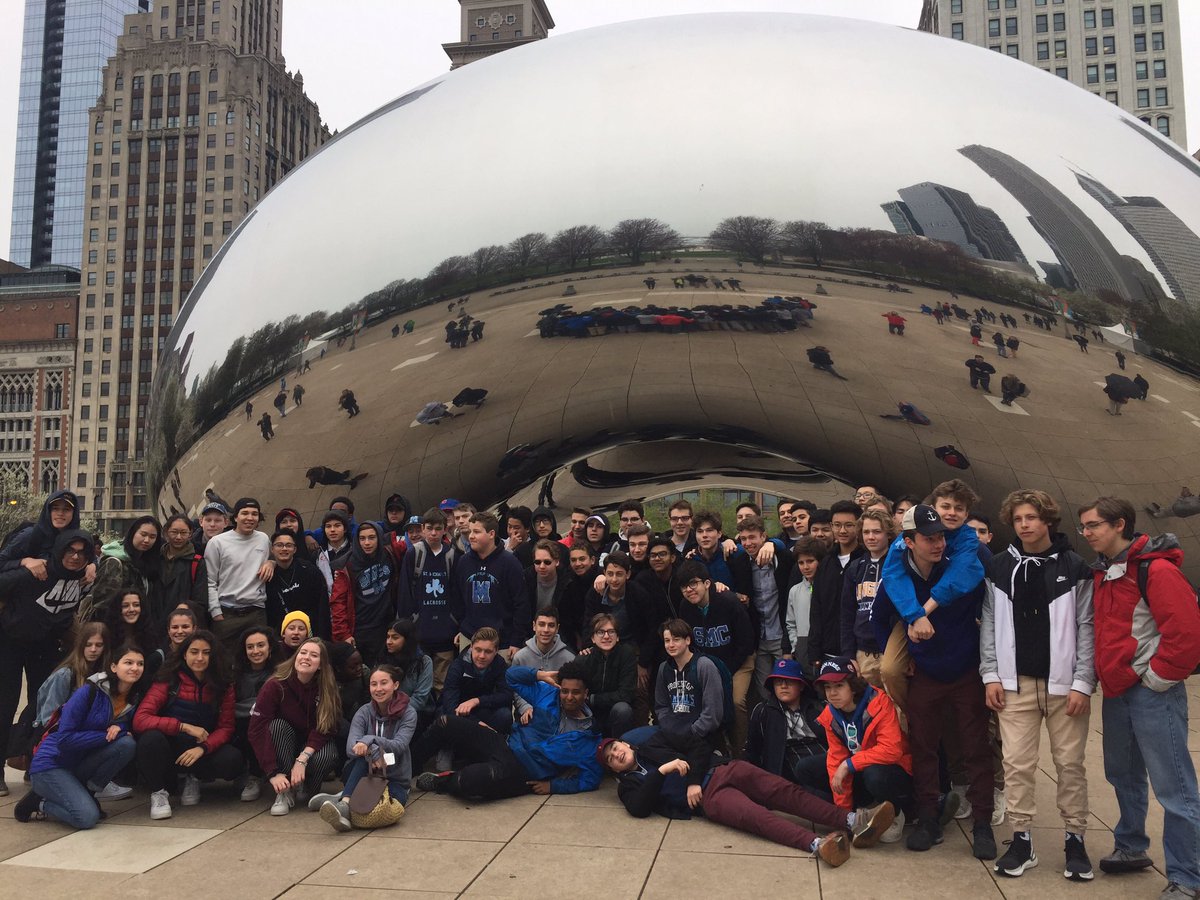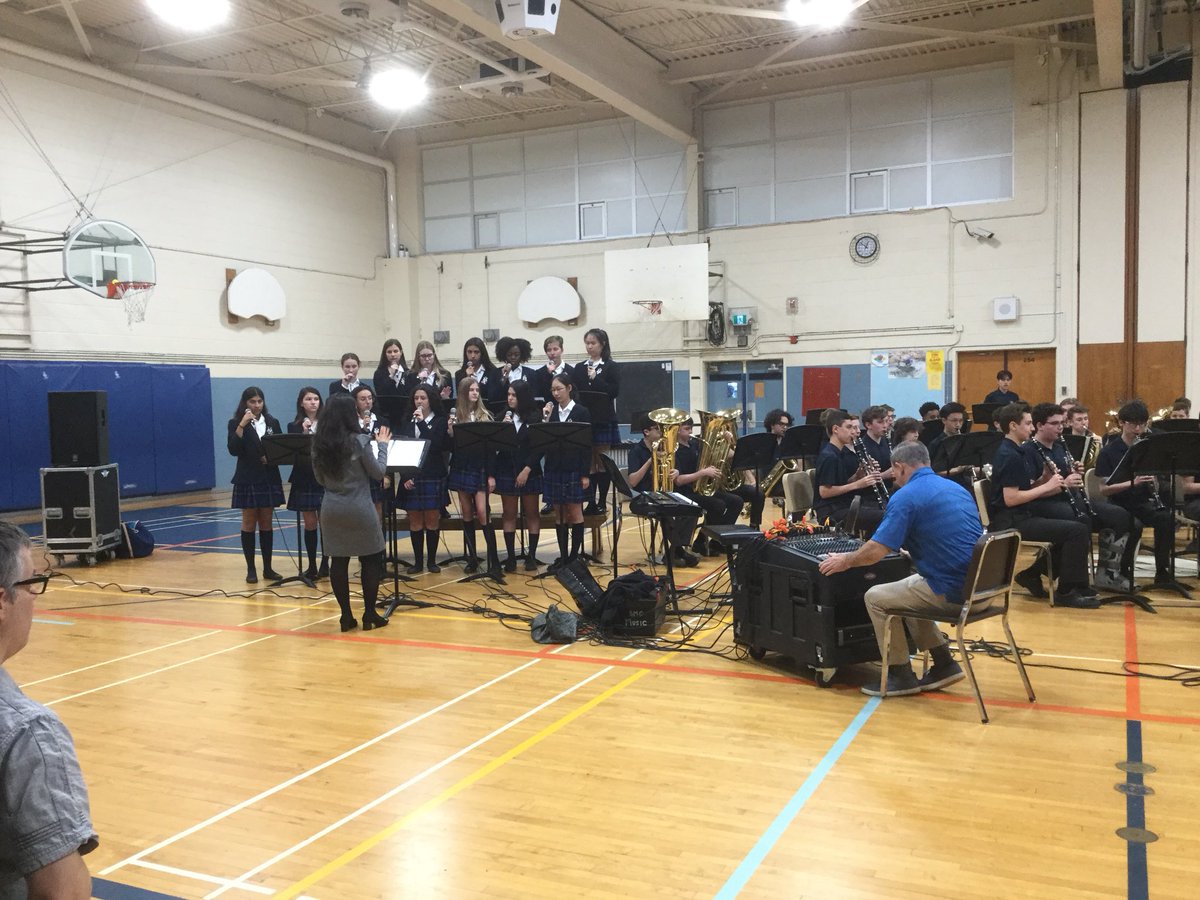 Ready for day two or are you tired yet! Up bright and early to perform at Sacred Heart School the Band and Choir received a warm welcome and left with lovely sweet treats from our audience. Next stop Paintball Explosion and yes it was! Teachers and students suited up, teamed up and painted the town! If paintball wasn't your cup of tea, not to worry, there was a 40,000 square foot laser tag facility.
A colourful dinner at Chicago's only original roaring 20's speakeasy dinner theatre. Just give 'Gloves' da password 'Little Jake sent me!!!' and he'll let you'se in da joint! This audience interactive speakeasy musical comedy featuring musical selections from Cole Porter, George Gershwin, Duke Ellington and Fats Waller all performed by da Tommy Gun's Garage mugs and dolls. Day 4: Millennium Park, the famous "Bean", Navy Pier, The Magnificent Mile, a meat lovers dinner at Fogo de Chao and a performance of the Blue Man Group's pyrotechnic multimedia sensory experience that combines theatre, percussion, music, art, science and vaudeville into a form of entertainment like nothing else. Day 5: A great trip home with wonderful memories and friends for years to come.
Students in grades 7 and 8, as well as music students in Senior School, attended the matinee performance of Fiddler on the Roof at SMCS. Several students from HNMCS were part of the cast.